I used to work in a classic Perforce manner and the project in question used to be located at: //depot/Desktop/Services/ServiceVessel
I've moved each project type to a corresponding depot, so the new location for the project became:
//Desktop/Services/ServiceVessel yesterday.
I am able to Get the latest revision of the project into a normal workspace without a problem.
I am implementing a new codeline management process with Streams today. I've created a stream depot for a project from P4Admin. I've added a mainline stream right under stream depot called LogicVessel. When creating stream in P4V, I was asked by the UI about where I'd like to get initial contents for the stream. I've chosen existing depot and pointed to //Desktop/Services/ServiceVessel folder.
Whenever I am trying to start working with the main or dev (I've created dev shortly after the problem appeared), I get the following error: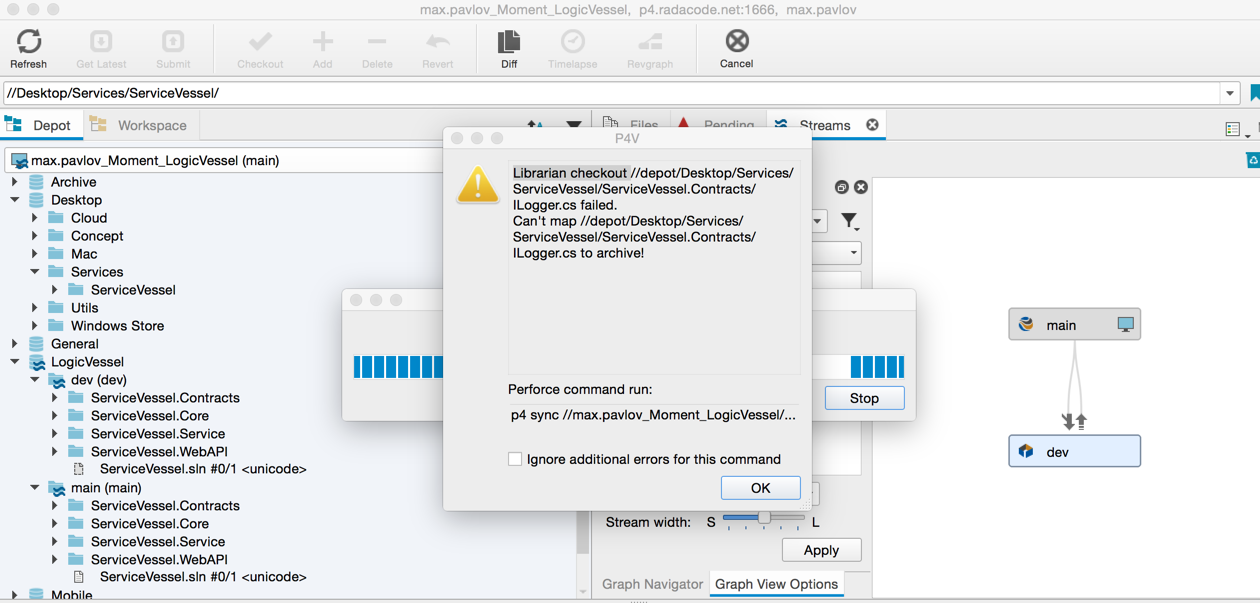 //depot/Desktop/Services/ServiceVessel is an old location of that project from which it was moved to its own Desktop depot yesterday.
I don't know why it's searching an old, no longer available location for files and not using the designated stream source it explicitly asked for, but please, if you have any idea on how to get it to work correctly, please let me know.
Thanks!
UPDATE 1
I've noticed that even though I can normally Get files from //Desktop/Services/ServiceVessel to my file system, Swarm can't seem to open them in the UI giving me 500 Server Error. Perhaps something is partially wrong with the source files of mine, but what?
UPDATE 2
If I recreate a depot called depot via P4Admin everything gets back to normal. However, this is not what I intended. How come I can't remove the default depot called depot completely?